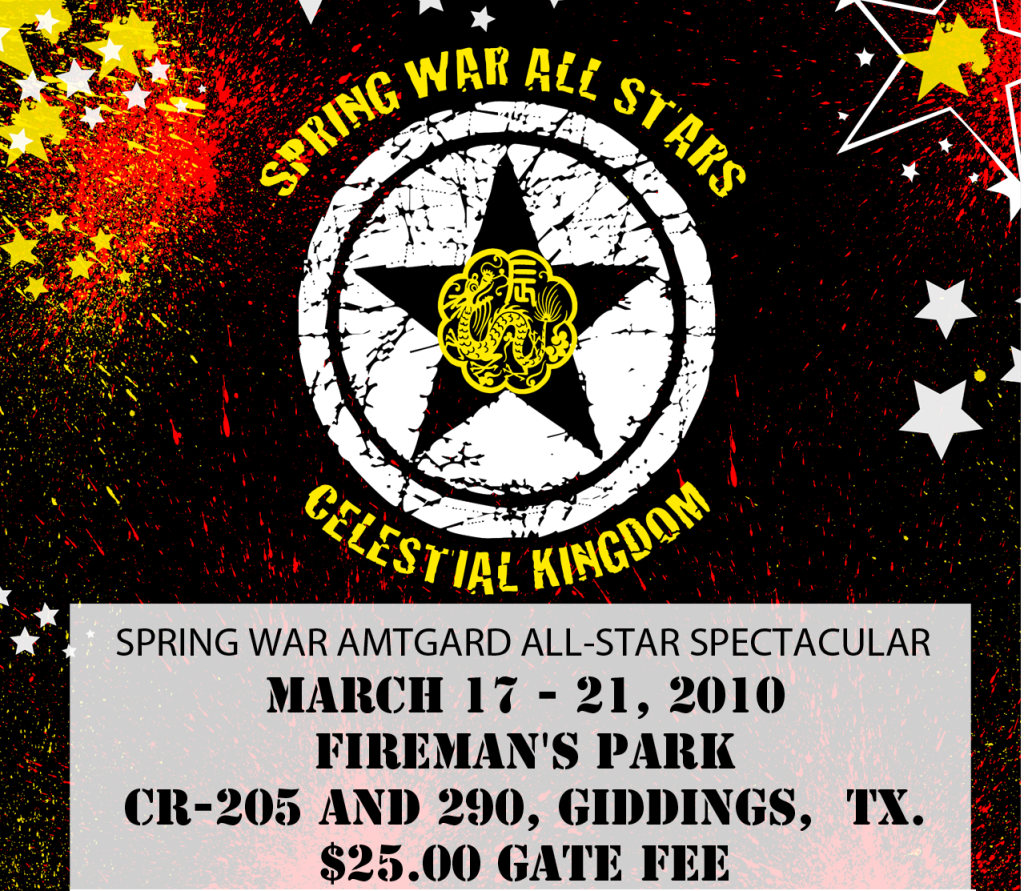 That's right folks, it's getting close to that time of year again........SPRING WAR!
The theme of Spring War this year is "Spring War All-Stars", a Porthos/Sponge production
A five army affair, that consists of four days of martial combat to determine who will be the All-Stars of Spring War!
Teams will be determine by the belt favor that you receive at gate upon entry to the event.
"So really, what should we expect for battlegames?"
Sponge has heard the pleas of the masses and this is what he has in store........
15 Battlegames ( 9 Openfield, 3 Maze & 3 Castle), a multitude of fighting tourneys and of course the ever so popular Spring War Ditch field!
"Wow....sounds interesting, but I will have my kids with me."
No worries there, Porthos has foreseen this and answers with 3 Kid events from Thur-Sat!
So during the day, you will be able to partake the pleasures of this loaded event.
"Cool, but what if I am not about fighting in general, what do you have for me?"
Apparently this is your first Spring War, because we are the home of Event Shenanigans!
Bardics have made it on the schedule not once but three times, that's right folks it's scheduled.
Not only that we will be holding our first annual brew off! Home brewers, bring your best and leave the victor!
The Roasting of Arthon of the Golden City! (To be hosted by Luke Wyngarde)
and of course the ever so popular and heavily attended party at Spring War, FT's Margarita Party!
That's right folks, FT has returned to be your mix master for Saturday night and remeber you must be 21 or older to partake of the free margaritas!
"That sounds great and all, but what will there be to eat?"
Well since most of you will be travelling many miles to make it to Spring War 2010, food and drink are major concern.
Colonel's Snack Shop returns to serve the SW populace with a night time twist, Cosplay Cafe! Dinner served by random Cosplay Servers.
Friday Night at Midnight, the CK will be supplying the chips and cheese for Nachos for all attending.
Feast itself will be one for the books for everyone that comes from beyond the borders of Texas.
Texas Traditional Smoke Brisket, Baked Sweet Potatoes, Oat Rolls, Steamed Veggies and Salad.
So in short....come and experience the 2nd Oldest Interkingdom Event of Amtgard, this March 17-21, 2010!