Recruit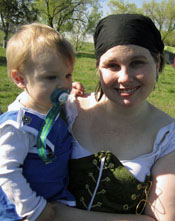 Joined: Wed Jul 30, 2008 2:17 pm
Posts: 5
Location: Lehi, UT
Started Fighting: 25 May 2008
Realm: Shire of Khaldoria
Favorite Fighting Styles: Cheerleader
Demon Wars 4

When: September 1, 2012 10 am- 5 pm
Where: South Fork Park, Provo, UT.
Fees: Free event but you will have to bring your own food and drink.
Duration: 1 day event

Details:

Anually, Ered Duath hosts Demon Wars. Currently a one day even for any and all fighters who wish to add a light roleplay to their gaming experience.

Weapons check will be officially held between 10am-12pm. After that you will need to find a herald who will do it. It is planned to have light/minimum role play with quests available if you choose or desire to them. Likewise it's an awesome chance to come down or up for a full Saturday of fighting. We will provide water/gatorade, or else bring up your own lunch. This is a Belegarth event and all weapon garb and armor checks will be held strictly to BoW standards.

After fighting/quests we will discuss the exciting plans we have for Demon Wars 5, which will be a 3-4 day larger event scheduled for August 2013.