Major thanks to Icarus for most of this text.
First
let me say thank you for showing an interest in our great sport called Belegarth Medieval Combat Society. On these boards you will find up-to-date information on events, chapters, and rules. Also you'll be able to trade tips on weapons and armor making, find rides to the next event, and talk about what ever else you want. Feel free to discuss what ever you want, but please keep it within reason.
How Do I Build Weapons
A lot of people's first questions are about weapons. We recommend that you first build your weapons under the supervision of anyone that has experience building weapons as this will make your first weapons last longer, look better, and probably save you money in the long run. If for any reason you find that impossible that is okay. We have tutorials for you to view and use.
Please view this page First:
http://www.angelfire.com/realm2/alcon/tips.html
This Page shows how to build many of the common weapons in Belegarth:
http://www.angelfire.com/realm2/alcon/construction.html
This addresses many of the uncommon weapons that people have wanted to make:
http://geddon.org/index.php/Experimental_Weapons_FAQ
Questions
If you have a question, before you post, look for your answer. There are several good places to do this. First place to look for your answer is in the rules, or the "Book of war".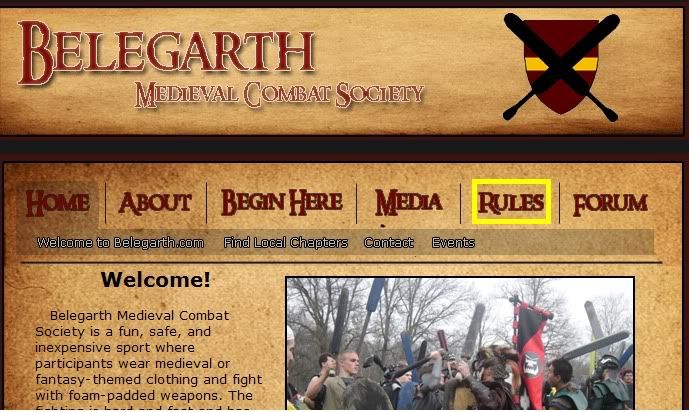 Here you can find everything you need to know about armor, sheild, weapon and garb specifications. Simple click on the quick link on the page for your topic.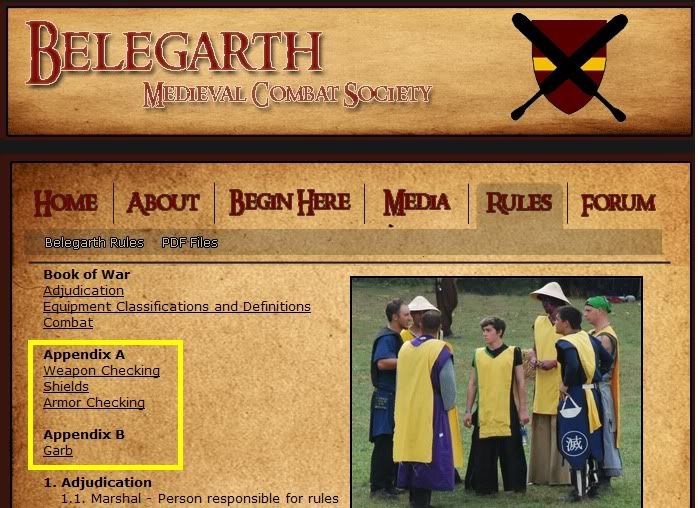 If the answer to your question is not here, then try searching for it with the search page found here.
If you still can't find your answer then now you can post your question. When posting please keep the following in mind.
General Board Etiquette
1. Properly name your topic. "Need to know" is not a good topic title. "Weapon Flex?" is better. "Weapon Flex Fixes" is even better.
2. Caps Lock is not cruise control for cool. Caps Lock is implied yelling and will get some people upset with you.
3. Emoticons should be used sparingly. Just because you're happy don't post every little guy that smiles.
4. Signatures are to be small. Don't put images in your signature and don't make it excessively long. If your signature is longer then your posts, turn it off please.
5. Don't post your phone number so everyone can see it, unless you need friends that badly.
6. If your posts look like they were written by a five year old with a crayon that is how you will be treated. -Theros-
7. Remember there are a lot of jerks out there so don't get down if someone bullies you. On the flip side, don't be too outrageous.
Avatars and Signature.
Many people on the boards have Pictures under there names these are called avatars. How do you get one? Well first you need a picture on your computer. It needs to be no greater than 100 by 100 pixels and 33kb. If you need to resize your image, use Microsoft Paintbrush, a free tool that is included with all versions of Windows. You can edit your Signature and Avatar by going to you user control panel settings.
Then click on profile

And then click on what you want to edit.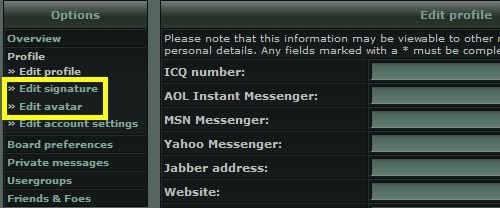 Posting Pictures
Eventually you are going to want to show everyone something and that when you need to be able to post a picture. Grab your picture and get a copy of the url, for this instance I am using the url "http://i47.photobucket.com/albums/f186/Shcriby/125252004769.jpg". Now in your post box there is an "IMG" button.

Then copy and paste the url in the middle of the "img tags"
And this is what it should look like.
And tada you have the picture
Posting Video
You could just post the link to a video OR you could get the actual video into your post! To do this the easiest way make sure it is a youtube video. In your post there is a "youtube" button.

Then go to your youtube page, and copy the "embedded" text.
Paste that in between the "youtube" tags

It should look like this.
And tada!
[youtube]<object width="560" height="340"><param name="movie" value="http://www.youtube.com/v/R7_Ta7vVW-c&hl=en&fs=1&"></param><param name="allowFullScreen" value="true"></param><param name="allowscriptaccess" value="always"></param><embed src="http://www.youtube.com/v/R7_Ta7vVW-c&hl=en&fs=1&" type="application/x-shockwave-flash" allowscriptaccess="always" allowfullscreen="true" width="560" height="340"></embed></object>[/youtube]
Embara Cayosin wrote:
to do youtube videos on here you only need to add the lettering after the =
so for this you would look like this
Code:
[youtube]Sl36SsszqpY[/youtube]
So remember when posting, respect each other!